The Tiers of Professional Cycling
Like many other sports, professional cycling has divisions. The higher the division/tier the faster the riders, the bigger the teams, competition and prize money. There are two professional levels where riders are paid a minimum yearly salary and a semi-professional level where a minimum salary is not required but racing and travelling costs are covered by the team. Below I will do my best to explain the tiers of professional cycling from the highest to the lowest tier.
Tier 1 – World Tour Level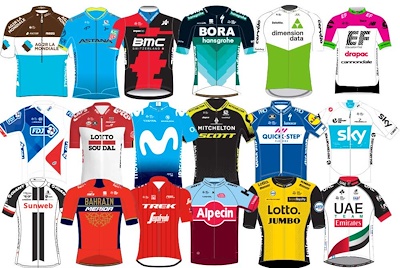 The highest tier/division in cycling is known as World Tour. The UCI World Tour consists of 18 teams including the well-known teams Movistar, Sky, and Mitchelton-Scott. World tour teams consist of 25-30 riders per team. All world tour teams feature in the biggest of races such as the Tour de France, Giro d'talia and La Vuelta. In 2018 there will be 37 World tour races, meaning all world tour teams will be involved in all 37 races.
All World Tour riders are on yearly wages, however, some riders get paid much more than others. The minimum wage for a world tour rider is just over $60,000, but valuable riders who have got big results or are important domestiques are on much higher wages. Riders such as Froome and Sagan are on wages in the millions as well as being paid through sponsorship, appearances at races by race organisers and prize money.
Team Budgets Range from 15-45 Million AUD a year.
        Tier 2 – Professional Continental
In the second tier/division of cycling, there are 24 teams known as Professional Continental Teams. Professional Continental teams can race world tour races but have to be invited by the race organisers. For example, Direct Energie, Fortuneo-Samsic, Cofidis, and Wanty Groupe-Gobert are all raced this year's Tour de France. They all race many other non-world tour races throughout the year.
Like World tour teams, professional continental teams must pay their riders a wage. Again similarly to world tour riders, the wage difference between professional continental riders varies a lot. The minimum wage however for a professional continental rider is just below $50,000
The total team budgets are generally in the magnitude of 2-8 million AUD per year.
          Tier 3 – Continental Level
     
There are over 170 continental teams all over the world. Continental teams are governed by national federations unlike World tour and professional continental teams which are governed by the UCI. Continental teams are ineligible to compete in any of the 37 World tour races but can compete in many other races which involve world tour and professional continental teams through invitation.
There is no minimum wage set for continental riders, however, continental teams can pay their riders at their will. Although not many continental riders get a wage, all races and travelling expenses must be paid for. Examples of Australian continental teams include Bennelong SwissWellness, Oliver's Real Food and Drapac Education First.  In Australia, their budgets range from 100 – 500k, with some international continental teams having budgets in the millions.
Tier 4 – Elite Domestic Racing
Domestic level racing teams are the next step down from continental teams, and is
where we fit in. Elite domestic teams race at the highest level in their own country and are generally competitive with the bigger continental teams. The elite domestic racing scene in Australia is the National Road Series (NRS). There are currently 21 teams in the Mens NRS which consist of some of the best bike riders from all over the country. The domestic racing scene is seen as a huge stepping stone for aspiring professional riders. Nathan Haas, Ritchie Porte and Jack Haig were all once NRS prodigies.
Like World tour, professional continental, and continental teams, domestic level teams rely on sponsors to help fund their racing. Money from sponsors ensures that domestic teams can fund their racing season, with team budgets ranging from 20k to 150k. So efficiency is key for these smaller outfits.